Scottish Hydrogen Assessment, Scotland
Energy Consultancy Leader
Helping transition the world to affordable clean energy while creating a sustainable economic future.
Decarbonising the world
The world is racing to prevent extreme climate change, with nations setting net-zero targets to force the pace of decarbonisation. Relying on fossil fuels like oil, gas and coal, which release greenhouse gases into the atmosphere, cannot continue – we need to transform how we generate energy and power.
This global energy transition is fundamental to achieving ambitious national net-zero targets. We are working with governments on planning and implementing strategies that will help build a sustainable future through clean, zero-carbon energy.
What role for hydrogen in Scotland's future?
The oil and gas sector has been a driving force of the Scottish economy for 50 years, currently contributing approximately 10% of its GDP. But Scotland has an abundance of renewable resources too, with 97% of today's domestic electricity supplied by renewables – mainly wind and hydropower.
The Scottish Government commissioned Arup to assess the energy sector's current mix of fossil fuels and renewables and the role hydrogen could play in a net-zero future.
Location of Scotland's Potential Future Renewable Resources
A net-zero game plan
Working with consultancy E4tech, we explored how hydrogen could help Scotland reach its net-zero target by 2045 while at the same time creating jobs and contributing to economic growth. Our team included experts in clean energy markets, economics and regulation, technology and innovation.
Our findings and recommendations were instrumental in shaping the Scottish Government's Hydrogen Policy Statement and the draft Hydrogen Action Plan.
Mix it up
There is much debate about the optimal design of next-generation national and regional energy systems and, according to Clare Lavelle, Arup's Energy Consultancy Leader in Scotland, there is no silver-bullet solution. "An energy system should be diverse, with multiple solutions driving decarbonisation. Hydrogen is part of the solution for applications that cannot easily be decarbonised through electrification. Hydrogen also complements electrification by increasing system resilience," she says. "If we get the mix right, we can design a system that's more efficient and resilient, and that creates economic opportunities."
"

The strength of commitment that came out of Scottish Government to adopt the 5GW target following our work was really exciting to see."
Clare Lavelle
Energy Consultancy Leader
Scenarios for a green future
Our role in the Scottish Hydrogen Assessment Project included supporting senior government decision makers to explore the role hydrogen could play in decarbonising the existing energy system.
During months of extensive analysis and consultation with stakeholders, we examined three scenarios for the future. The first envisaged using hydrogen extensively throughout the energy network, powering transport, providing heat and supplying industry. The second focused solely on production of green hydrogen from an expanding number of offshore wind farms in Scottish waters, then exporting to EU nations. The third looked at the use of hydrogen for difficult-to-decarbonise areas, including industrial heat and powering heavy goods vehicles.
Scotland as a European green hydrogen exporter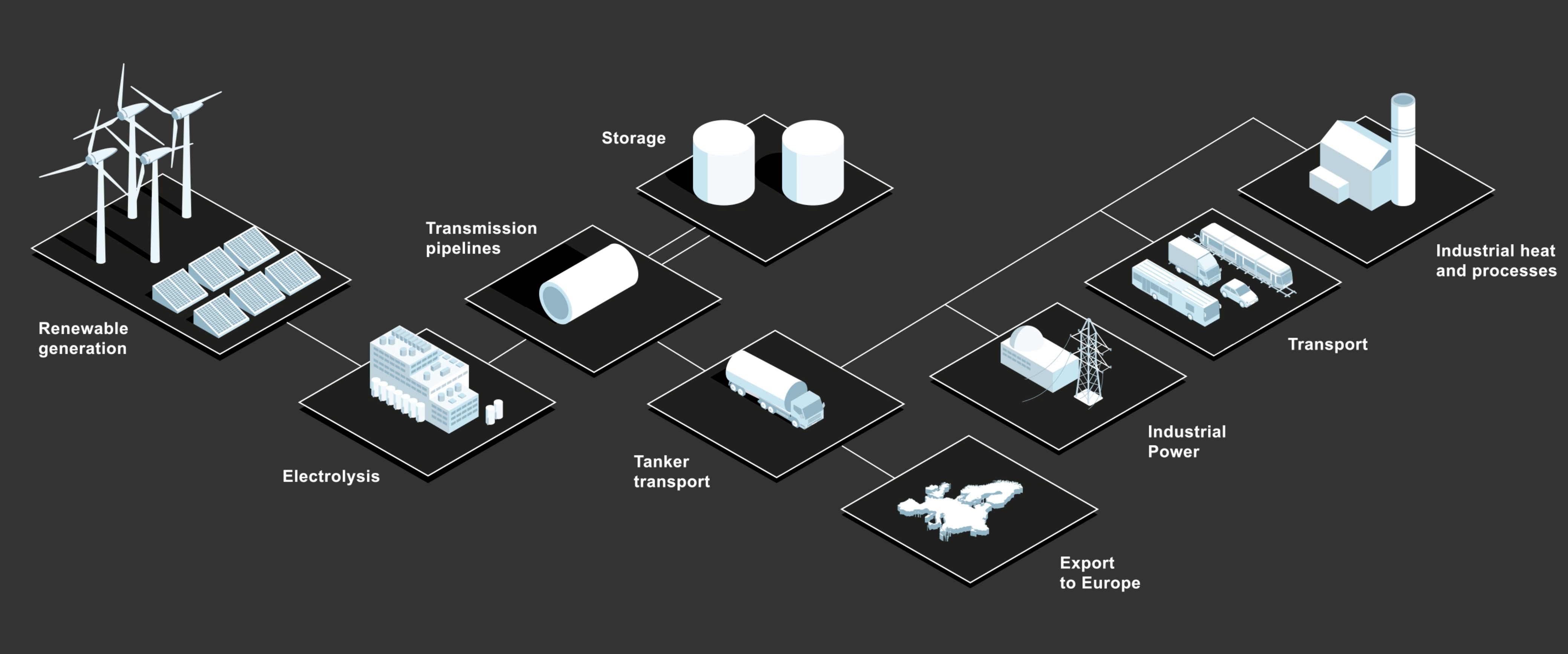 Unlocking Scotland's vast potential to produce green hydrogen could have a huge impact on the economy by 2045.
£25bn
Potential generation per year
A bold commitment
Each scenario would require radical changes to the existing energy sector and supply chain. The most ambitious would establish Scotland as the leading exporter of green hydrogen within Europe, with a potential economic value of £25bn and the creation of 300,000 jobs by 2045.
Following our analysis, the Scottish Government has been bold, setting a goal of 5GW installed hydrogen capacity by 2030 – one of the world's most ambitious goals to date. We continue to work with them on this policy, and advising on ways to educate and inspire people to embrace an energy transition that includes hydrogen.
A world of opportunity
Alongside our work in Scotland, we have also been commissioned by the Australian Government to analyse the potential for hydrogen in its energy transition, and we are advising on similar issues in South East Asia, Europe and England.
For David Hogg, one of our senior energy systems consultants based in Scotland, hydrogen is just one piece of the energy-sector puzzle. He is equally excited about our projects with other renewables, including work on floating offshore wind technology. There is a great deal of change ahead, but one thing is crystal clear – the future is net-zero.