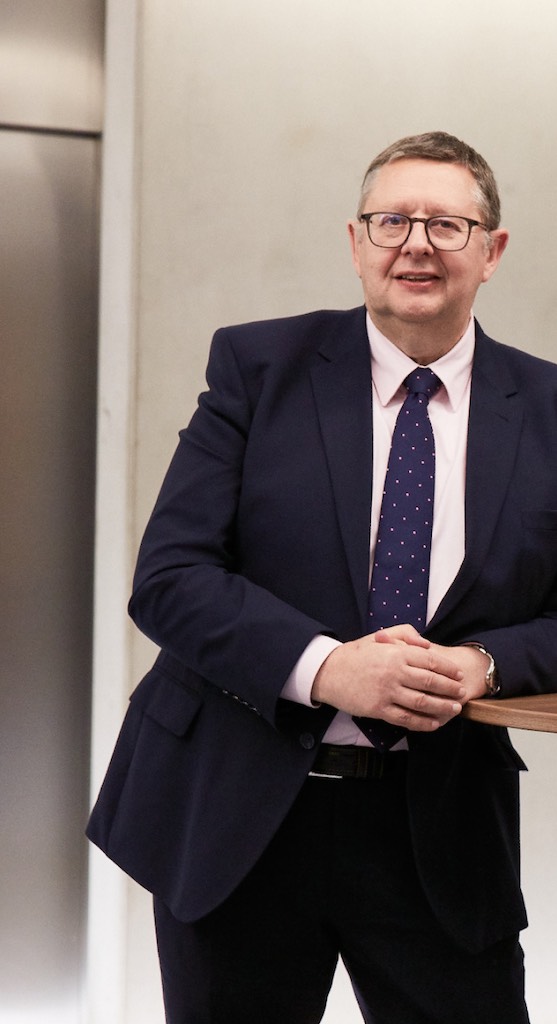 Alan Belfield
A challenging yet inspiring year
Chair's statement
A challenging, yet inspiring year
While this year was an extremely challenging one, it was also an inspiring year. We've worked on some fantastic projects, served our clients well in difficult times and continued to win new work. It's been incredible to observe what our members have managed to achieve, despite the COVID-19 pandemic and with three quarters of our people working from home. I couldn't be prouder of the commitment and dedication that everyone has shown.
Robust performance Despite the shock to the global economy, we delivered a strong performance for the financial year ending 31 March 2021. Our revenue was £1.717bn, similar to the year before, and we returned a profit of 10% (before the application of the global profit-share scheme), which reflects the substantial effort made by everyone in the firm to maintain our operations through the pandemic. Notwithstanding the short-term uncertainty as the pandemic took hold, our continued focus on winning new work and supporting our clients across the business means we are in a strong commercial position for the road ahead. While the world's responses to the pandemic had major impacts on some of our businesses like aviation, other areas, such as science, industry and technology, and healthcare grew during the year.
75th Anniversary In 2021, we passed a significant milestone: it was 75 years ago that Ove Arup founded the firm. Since then, we have grown and thrived by doing high-quality work and staying true to the aims and values he identified as central to who we are.
Ove believed in 'total design' and we still believe in that today. In a rapidly changing and complex world, only the widest cooperation can solve the big issues the world faces around climate change and resilience. Although he wouldn't recognise the digital tools we now use, Ove would be familiar with how we're trying to influence the world, and the underlying spirit and the creativity that we bring to our projects. He observed that our work must be excellent and socially useful and, as we carry it out, we need to be straight and honourable in our dealings.
I think we are all thankful that he gifted us an organisational structure, a mission and an independence that is as relevant today as 75 years ago.
Sustainable futures Clarity and direction are incredibly valuable in a crisis. So, in July 2020, we launched Sustainable futures – a new three-year strategy with sustainable development at its heart. It positions us to have a more positive impact on the built environment than ever before – to create a greener, cleaner, fairer and more sustainable society. The strategy now guides the choices that we make and the projects we pursue.
The big drivers for change continue to be around urbanisation, population growth, climate change and scarcity of resources. The pandemic has brought a renewed and vital focus on city resilience and the need to act on climate change. Our clients are increasingly engaging with the urgency of climate action and the scale of change required to achieve net-zero emissions globally by 2050. Our advisory role has also grown, from services like sustainable investment consulting, through to helping clients get ready for the EU Taxonomy for sustainable economic activities.
Partnerships are incredibly important to the way we work and the influence we can have. In 2020, we were commissioned by the UK Government to carry out the sustainability advisory work for the G7 and COP26 summits. We are working more and more on energy transition, including the use of hydrogen, on the circularity of materials and are helping the World Economic Forum to develop their thinking in these areas. We are promoting circular economy principles throughout our industry, working with the Mayors Alliance for the European Green Deal and with the Ellen MacArthur Foundation.
Across Arup, we have a growing community of experts with the skills and knowledge to tackle these issues. We remain committed to using our influence to lead the debate and establish more sustainable practices.
A better way The effects of climate change and the impact of the COVID-19 pandemic has highlighted the increasing importance of resilience – to improve cities' and communities' ability to adapt to rapidly changing circumstances and increasing risk. There is a better way to a sustainable future. Our focus is to use our design and advisory services to produce safer, more inclusive, resilient and sustainable cities and infrastructure.
Much of our current work points to the sustainable world we want to see. We're delighted to be working on the design of 1,000 hectares of artificial islands in Hong Kong as part of the Lantau Tomorrow Vision, proposed to meet the long-term housing, social and economic development needs of Hong Kong. We deliver high-quality work and build long-term trusted relationships with our clients and collaborators in all our markets. One example of this ongoing collaborative work is with Transport Infrastructure Ireland where we've helped craft a sustainability strategy for the entire organisation to truly help embed the agenda culturally. We also undertook research into women's travel patterns to inform decisions by the state agency that deals with road and public transport on how sustainable transport modes can become a viable option for all members of society.
Architecture is increasingly important for us, giving us more influence and is very much part of our total design ethos. This can be seen clearly at London's 1 Triton Square, where we used circular economy principles to refurbish a major commercial building, significantly reducing embodied carbon across its lifespan. With 15% of all North American container traffic due to cross over California's first long-span cable-stayed bridge, the Gerald Desmond Bridge is a critical infrastructure link and a vital component of the regional and national economy. The new bridge opened in October 2020 to serve the needs of a growing region and ensure the safe, optimised flow of people and goods, with truck-climbing lanes and shoulders on both sides of the highway leading to reduced congestion.
Our City Modelling Lab brings together our experts in transport, energy, climate change and economics with data scientists, software engineers and designers to help transport and planning authorities anticipate demand on their travel networks and shape investment.
We are working with Transport for London as its agent-based modelling partner at a city scale, and for New Zealand's Ministry for Transport, where we are not only building a national-scale model for the next 50 years but developing the Ministry's own ability to create, run and model future scenarios.
Flexible working The last year has demonstrated how we can both work flexibly and continue to deliver excellent work for our clients. Many of us have missed the collaboration and creativity that comes from working side by side, while technology has enabled us to work with each other in new ways at greater distances. We want to combine the best of these experiences, so as the pandemic recedes, we are committed to operating a flexible workplace, one that attracts, develops and keeps the best talent here at Arup while supporting their wellbeing.
I am really proud of our members and the way we've performed over the last 12 months. Our strong performance gives us a solid platform to build on for the year ahead.
Alan Belfield
Chair